All too frequently, basements become an afterthought or a dumping ground for clutter you don't want people to see. Basements, which are often underutilized and unmanaged, do not always contribute to the aesthetics or functionality of a home, but they can! While remodeling the basement may be the last thing on your mind, it is one of the most valuable pieces of real estate in your home. You may turn your basement into an important component of your home that improves your living and serves a better purpose by remodeling it.
Not sure where to begin or how to improve it? It doesn't have to be difficult to finish a basement. We'll go through five of the most compelling reasons to rebuild or complete your basement, as well as examples of functional basement layouts.
1. FINISHING YOUR BASEMENT WILL ADD VALUE TO YOUR HOME
Simply having a basement will increase the resale value of your home. However, having a functional basement for living space, office space, a playroom, or extra guest bedrooms provides flexibility.
Even an unfinished basement will add between $20k and $30k to the value of your property. Finishing a basement with a professional makeover, including insulation, framing, drywall, concrete finishing, basic electricity, and plumbing, can add significantly more value. Basement finishing does not have to be elaborate; it simply has to be done correctly.
When it comes to renovation, homeowners in some areas can return as much as 80-86 percent of their investment. As of 2021, the national average was over 70%, but because of our region's lively marketing, rates of remodeling return can be significantly higher!
Because it is a rare feature, especially in Charlotte, your completed basement can be a great selling factor and generate curiosity among buyers. A couple more basement walls and some warm finishes may make a big difference.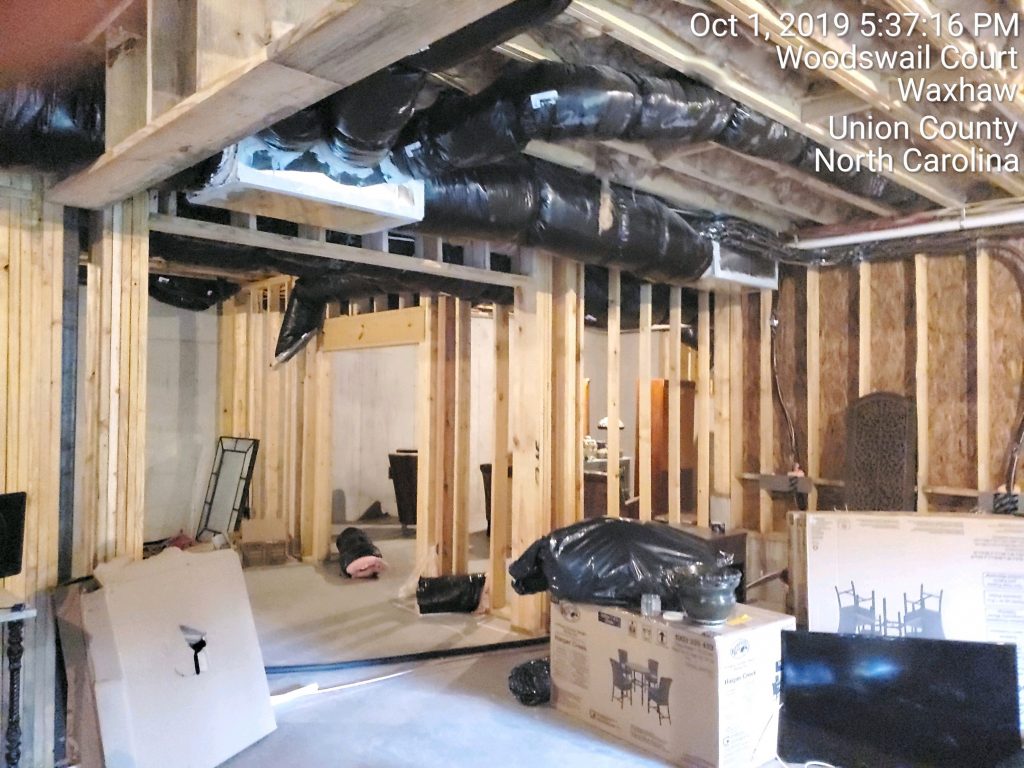 2. BASEMENT REMODELING IMPROVES THE HEALTH OF YOUR HOME
Basement remodeling isn't only about appearances; it's also about your home's longevity and usability. A wet and cold environment is attracted to a neglected, unfinished basement. According to the American Society of Home Inspectors and FEMA, basement leaks affect up to 98 percent of homes. 60 percent of basements have too much moisture, and 38 percent of those have hazardous molds and fungi.
This indicates that your basement is most likely polluting your home's environment, putting your family in pain and creating health hazards. The air in a room does not stay in that room. It spreads throughout a home, settling in bedrooms, bathrooms, and kitchens—the places where you and your family spend the most time.
These issues can be addressed by properly finishing a basement with current waterproofing and insulation systems, ensuring that your home has healthy indoor air quality. If you're worried about anything or planning a remodel, contact someone to evaluate the basement for leaks, foundation cracks, bugs, and other issues. If you reside in an older home, they should additionally check for asbestos.
3. INCREASE LIVING AND UTILITY SPACE
Above all, the goal of a basement remodeling is to create a functional room. This can take the form of a laundry room, a pet grooming station, or storage space, for example. It can also expand the living areas of your home by providing extra space for leisure, entertaining, and other daily activities.
We turned an unfinished basement into an entertainment center and study. This provided them with an extra place in the house, where their children could relax and study. Billiards rooms, home offices, movie rooms, libraries, and other bespoke spaces could be created by renovating a basement.
4. MAKE A GUEST SPACE IN THE BASEMENT
Maybe you'd like to invite more friends and family around, but you just don't have enough space. Basement remodeling may allow you to create additional guest rooms or perhaps a guest suite. Keep in mind that extending plumbing to the basement isn't always a cost-effective or simple task, so think about the layout of the first floor before deciding to install a bathroom downstairs. A design-build firm or an architect can assist you in creating a layout that is both visually and economically appealing.
Regardless, you'll be able to provide a comfortable room for your visitors that fulfills their sleeping needs and provides them with more privacy than they might have on the main levels of your home. If you're planning to complete a basement and add bedrooms, make sure to add extra insulation to the walls and ceiling for warmth and comfort.
5. A MONEY-MAKING RENTAL UNIT CAN BE CREATED FROM A CONVERTED BASEMENT
You might convert the basement into an auxiliary housing unit if your home is large enough to accommodate all of the necessary facilities (ADU). ADUs are secondary residences built on the same site as a single-family home; they are commonly referred to as mother-in-law suites in basements. They are a complete rental unit including sleeping, eating, and bathing amenities. If you rent out your basement conversion to tenants, it might provide a significant source of money for your family. You might be able to return your full investment over time.
ADUs are also gaining popularity as a solution for homeowners who want to provide their elderly relatives with their own living quarters on the property. This provides the security of having them at home while still providing the independence and privacy that aging relatives crave.
Always keep in mind whether you want to convert your basement into an ADU down the road when finishing it. Even if it isn't your immediate aim, you can add features to your present project that will make a basement conversion easier in the future, such as additional laundry and appliance hookups.
One of our most popular basement remodels to date is our modern farmhouse basement, which has inspired many additional basement ADU remodels in recent years.
Our team at JMC Building Group constructed all of the finished basements shown in this article as home improvement projects. We are the go-to company for Charlotte basement remodels and finishing. Even if ceiling height is a problem, we can help! We're ready to lend you our 15+ years of expert advice and services to help you personalize your house. Reach out to us right now if you're ready to discuss your basement renovation options. We'd be pleased to talk about your options and provide you a quote.